Map Unavailable
Dates: Sep 17, 2020 - Sep 20, 2020
Times:9:30 am - 5:00 pm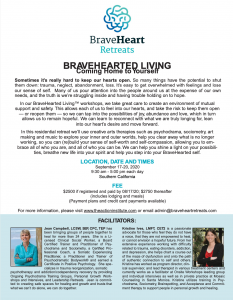 Sometimes it's really hard to keep our hearts open. So many things have the potential to shut them down: trauma, neglect, abandonment, loss. It's easy to get overwhelmed with feelings and lose our sense of self. Many of us pour attention into the people around us at the expense of our own needs, and the truth is we are struggling inside and having trouble holding on to hope.
In our BraveHearted Living workshops, we take great care to create an environment of mutual support and safety. This allows each of us to feel into our hearts, and take the risk to keep them open — or reopen them — so we can tap into the possibilities of joy, abundance and love, which in turn allows us to remain hopeful. We can learn to reconnect with what we are truly longing for, lean into our heart's desire and move forward.
In this residential retreat we'll use creative arts therapies such as psychodrama, sociometry, art making and music to explore your inner and outer worlds, help you clear away what is no longer working, so you can (re)build your sense of self-worth and self-compassion, allowing you to em- brace all of who you are, and all of who you can be. We can help you shine a light on your possibilities, breathe new life into your spirit and help you step into your BraveHearted self.
DATE, TIMES AND LOCATION
September 17-20, 2020
9:30 am – 5:00 pm each day
Orange County, CA
FEE
$2500 if registered and paid by 08/17/20; $2750 thereafter (includes lodging and meals)
(Payment plans and credit card payments available)
For more information, please visit www.braveheartretreats.com or email admin@braveheartretreats.com
Action Institute of California is approved by the California Association of Marriage and Family Therapists to sponsor continuing education for LCSWs, LMFTs, LPCCs and/or LEPs.  Action Institute of California maintains responsibility for this program/course and its content.
Register Now